Koncerty
Wieści
Płyty
Wywiady
Ogłoszenia
Zobacz
Redakcja

poniedziałek, 30 stycznia 2023
Siedmiodniowy "Hellfest" w 2022 roku
20.06.2021 20:43 autor:
Verghityax
, źródło: profil "Hellfestu" na Facebooku
Organizator francuskiego "Hellfestu" ogłosił datę i skład jubileuszowej edycji festiwalu. Dotychczasowa formuła została rozszerzona do siedmiodniowej, podzielonej na dwa weekendy. Data "Hellfestu 2022" to od 17 do 19 czerwca oraz od 23 do 26 czerwca. Zagrają między innymi Metallica, Guns N' Roses, Nine Inch Nails, Scorpions, Judas Priest, Deftones, Alice Cooper, Faith No More, Deep Purple, Nightwish, Sabaton, Volbeat, Megadeth, Whitesnake, Ministry, Black Label Society, Korn, Wardruna, Helloween, Obituary, Carcass, Sepultura, Electric Wizard, Monster Magnet, Mayhem, Mercyful Fate, Killing Joke, Running Wild, Watain i Katatonia.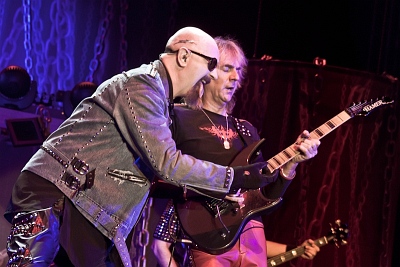 Judas Priest, Katowice 14.04.2012, fot. Verghityax
Dotychczas zakupione wejściówki obowiązywać będą w pierwszy weekend "Hellfestu", czyli od 17 do 19 czerwca 2022 roku. Ich posiadacze będą mogli nabyć karnety na drugi weekend, czyli od 23 do 26 czerwca 2022 roku, w dostępnej wyłącznie dla nich przedsprzedaży, która ruszy 6 lipca 2021 roku. Przedsprzedaż ogólna rozpocznie się 7 lipca 2021 roku.
"Hellfest" w formule siedmiodniowej ma być wydarzeniem jednorazowym, które nie powtórzy się nigdy więcej. W Clisson, na sześciu scenach, wystąpi wówczas trzystu pięćdziesięciu wykonawców.
17 czerwca zagrają Deftones, The Dropkick Murphys, The Offspring, Frank Carter & the Rattlesnakes, The Distillers, The Inspector Cluzo, The Wildhearts, Frog Leap, Volbeat, Five Finger Death Punch, Opeth, Mastodon, Shinedown, Leprous, Soen, Ego Kill Talent, Laura Cox, Suicidal Tendencies, Powerflo, Youth of Today, Cro-Mags, Dog Eat Dog, Rudeboy, Slapshot, Higher Power, In Other Climes, Electric Wizard, Baroness, High On Fire, Witchcraft, Black Mountain, Elder, ASG, Greenleaf, Abrahma, Obituary, Death to All, At The Gates, Grave, Gatecreeper, Cadaver, Enforced, Necrowretch, Tremplin Voice of Hell, Mayhem, Abbath, Rotting Christ, Primordial, The Great Old Ones, Seth, Mephorash i Numen.
18 czerwca zagrają Faith No More, Megadeth, Rival Sons, Heaven Shall Burn, Knocked Loose, Crystal Lake, Fire from the Gods, Deep Purple, Airbourne, Steel Panther, Alestorm, The Darkness, L7, The Dead Daisies, Galactic Empire, Joyous Wolf, Social Distortion, Anti-Flag, Agnostic Front, Reverend Horton Heat, The Toy Dolls, Frustration, Guerilla Poubelle, Lion's Law, Grade 2, Envy, Mono and the Jo Quail Quartet, Om, Pelican, 3Teeth, The Picturebooks, Me And That Man, Duel, Point Mort, Sepultura, Sacred Reich, Flotsam and Jetsam, Exciter, Loudblast, Xentrix, Rectal Smegma, Brutal Sphincter, Karras, Vreid, Skald, Ensiferum, Taake, Kampfar, Einherjer, Helheim, Aktarum i Artus.
19 czerwca zagrają Avenged Sevenfold, Korn, Maximum the Hormone, Code Orange, Jinjer, Lacuna Coil, Kontrust, Deadly Appls, Judas Priest, Running Wild, Down, Michael Schenker, Doro, Battle Beast, Sortilege, Tempt, Walls of Jericho, While She Sleeps, Deez Nuts, Counterparts, Jesus Piece, Moscow Death Brigade, Landmvrks, Glassbone, Killing Joke, Perturbator, Life of Agony, Red Fang, Twin Temple, Inter Arma, Lysistrata, Vile Creature, Ecstatic Vision, Devin Townsend, Coroner, Dying Fetus, Misery Index, Monuments, Ingested, Dyscarnate, Exocrine, Watain, Alcest, Belzebubs, Borknagar, Gaahl's Wyrd, Regarde les Hommes Tomber, Numenorean, Penitence Onirique i Deliverance.
23 czerwca zagrają Scorpions, Whitesnake, UFO, Thunder, Phil Campbell and the Bastard Sons, Wardruna, Helloween, Danko Jones, Tyler Bryant & The Shakedown, Rise Against, Turnstile, Of Mice & Men, Dragged Under, Worst Doubt, Hangman's Chair, Lowrider, IV and the Strange Band, Los Disidentes del Sucio Motel, Therion, Septicflesh, Insomnium, Tribulation, Crown, Heilung i Zeal & Ardor.
24 czerwca zagrają Nine Inch Nails, Ministry, Skinny Puppy, Killing Joke, Health, Youth Code, Alice Cooper, Megadeth, Kreator, Dragonforce, Blues Pills, Crisix, Disconnected, Bad Religion, Goldfinder, Millencolin, Opium du Peuple, Pogo Car Crash Control, Justin(e), Dirty Fonzy, The Baboon Show, Sons of O'Flaherty, Atari Teenage Riot, New Model Army, Earth, Godflesh, A.A.Williams, Human Impact, Stoner, Okkultokrati, As a New Revolt, Decapitated, Deeds of Flesh, Legion of the Damned, Gama Bomb, Benighted, Dropdead, Teethgrinder, Yarotz, Enslaved, Marduk, Moonspell, Ihsahn, Hjelvik, Dirty Shirt & The Transylvanian Folkcore Orchestra, Gaerea i Neige Morte.
25 czerwca zagrają Guns N' Roses, Airbourne, Myles Kennedy, Gary Clark Jr, Ayron Jones, Michael Monroe, Dirty Honey, Nightwish, Epica, Blind Guardian, Eluveitie, Symphony X, Gloryhammer, Diamante, Existance, The Exploited, Discharge, Touche Amore, The Rumjacks, Xibalba, Stereotypical Working Class, Martyrdod, Hawser, Converge, Kadavar, Villagers of Ioannina City, Hallas, My Own Private Alaska, Molassess, Slift, Untitled With Drums, Katatonia, My Dying Bride, Draconian, Fleshgod Apocalypse, Sorcerer, Betraying the Martyrs, Humanity's Last Breath, Nero di Marte, Dropdead Chaos, In Extremo, Moonsorrow, Myrkur, Igorrr, Arcturus, Conjurer, Fejd, Autarkh i Les Chants de Nihil.
26 czerwca zagrają Metallica, Black Label Society, Avatar, Ugly Kid Joe, Alien Weaponry, Bokassa, Spiritbox, Sabaton, Bring Me the Horizon, Bullet for My Valentine, Tagada Jones, Ill Nino, Novelists, Hatebreed, Suicide Silence, Madball, Lionheart, Terror, Crowbar, Judiciary, Year of the Knife, Clowns, Monster Magnet, The Obsessed, Eyehategod, Thou, Ufomammut, Year of No Light, The Atomic Bitchwax, 20 Seconds Falling Man, Carcass, Napalm Death, Destruction, Vltimas, Blood Incantation, Demilich, Carnation, High Command, Mercyful Fate, Triptykon, Mgła, Archgoat, Cult of Fire, Midnight, Svart Crown, Nytt Land i Sordide.
Tagi:
Metallica
,
Guns N' Roses
,
Faith No More
,
Scorpions
,
Nine Inch Nails
,
Deep Purple
,
Alice Cooper
,
Nightwish
,
Judas Priest
,
Deftones
,
Sabaton
,
Ministry
,
Megadeth
,
Black Label Society
,
Whitesnake
,
Running Wild
,
Mercyful Fate
,
Monster Magnet
,
Volbeat
,
Korn
,
Wardruna
,
Obituary
,
Sepultura
,
Electric Wizard
,
Mayhem
,
Watain
,
Helloween
,
Katatonia
,
Killing Joke
Dodaj komentarz »
Zobacz także
Dodaj wieść
Sonda
Czy w 2023 roku wspierasz finansowo Wielką Orkiestrę Świątecznej Pomocy?